12 Feb: Kornel Kovács | Zoo Brazil | Johan S | Anna Korsgren | Sharks | Stephanie Radionova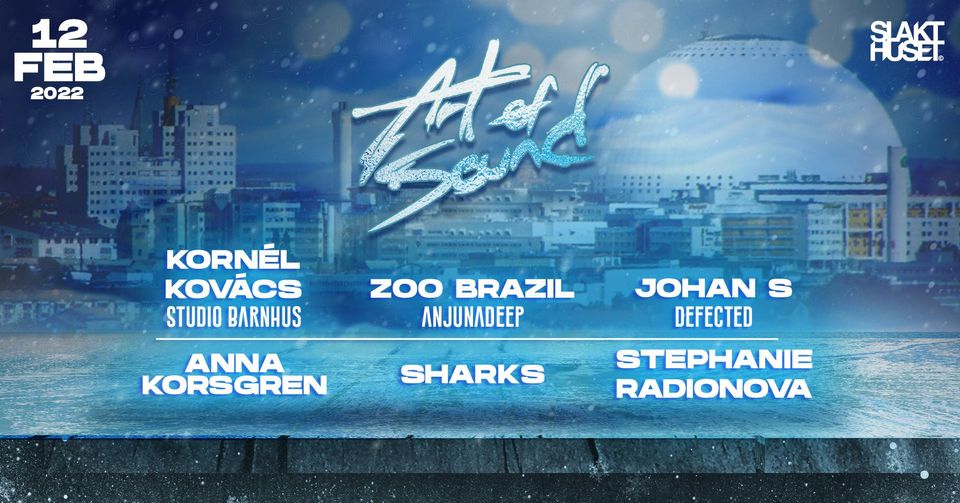 Strax under 1500 gäster skakade loss på vårt event: The ONE TO LAUNCH IT ALL när vi senast blev av med restriktionerna oktober 2021. Vi är givetvis tillbaka på Slakthuset för: nu släpps vi fria; Round Two med en otrolig artist lina. Dekorerar och skapar installationer i sedvanlig Art of Sound anda.
OBS. Vi tar endast 950 gäster.

DJ's in concert on three floors
KORNÉL KOVÁCS  STUDIO BARNHUS
instagram.com/kornelkovacs
facebook.com/studiobarnhus
ZOO BRAZIL  ANJUNADEEP
instagram.com/zoobrazilofficial
instagram.com/anjunadeep
JOHAN S | DEFECTED
instagram.com/johansmusic
facebook.com/DefectedRecords
Voted world NR: 8 best
Tech House DJ 2021 by Traxsource
ANNA KORSGREN
instagram.com/annakorsgren
SHARKS
instagram.com/sharksweare
Låt skrivar duon Sophia Englund & Susanna Friberg

RadionovaSphere
ft STEPHANIE RADIONOVA
B2B
YOURHIGHNESS | YSS Audio
instagram.com/ed.w00ds
instagram.com/yourhighness_yss
Entré
First release: 200:-
Second 250:-


Detta är ett live musik event.